Mischa Bakaleinikoff
Born in Moscow at the turn of the century, Mischa R. Bakaleinikoff fled the Bolshevik regime and came to the United States in 1926. He joined the music department of Columbia Studios in 1931, where he played double bass viol on many films, such as Lost Horizon. It was on this film that he met his wife Helen Gilbert, who was sitting beside him, playing cello.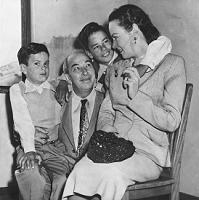 For Columbia, Bakaleinikoff became one of the busiest motion picture musical directors in Hollywood, conducting and composing for hundreds of films, including a lot of that studio's serials. Just a few of his many composing jobs were for: Adventures Of Captain Africa, Brick Bradford, Cannibal Attack, Conquest Of Cochise, Creature With The Atom Brain, Earth vs. The Flying Saucers, Hellcats Of The Navy, It Came From Beneath The Sea, Jungle Manhunt, Killer Ape, Last Of The Redmen, The Palomino, Pirates Of Tripoli, Reprisal!, 20 Million Miles To Earth, The 27th Day, and The Werewolf.
Mischa Bakaleinikoff was a member of the Masonic Lodge, and when he died in 1960, the music for his funeral service was played by the string ensemble of Columbia Pictures. His two brothers were also musically accomplished, with Constantin serving as RKO's Music Director for many years, and Vladimar being the assistant conductor and music advisor of the Pittsburgh Symphony.