David Buttolph
James David Buttolph Jr. (pronounced BUT TOLF) was born on August 3, 1902 in New York City, and studied piano at the Juilliard School of Music. After working as an accompanist and song writer, his love of opera led him to Europe in the mid-1920s. While abroad for four years, he studied with Clemens Krauss of the Viennese Opera and with Hugo Rohr of the National Theater in Munich. Buttolph coached opera in Germany, and also supported himself by performing piano in nightclubs as a member of a jazz ensemble.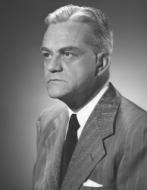 Upon returning to the States, he worked at radio station WEAF in New York, where he conducted the National Concert Orchestra, and later in Schenectady he was musical director for NBC radio station WGY. Buttolph also served as director and accompanist of the National Cavaliers singing group. In 1934, he was hired as an arranger for 20th Century Fox while he was still in New York, and then shortly thereafter moved to Hollywood.
After collaborating on many scores as a member of Alfred Newman's Fox team, Buttolph went on to a successful solo career, composing until the early 1960s. Just a few of his movies are The Beast From 20,000 Fathoms, Buffalo Bill, Corvette K-225, The Gorilla, Guadalcanal Diary, The Horse Soldiers, Kiss Of Death, My Favorite Blonde, Onionhead, PT 109, Rope, Submarine Command, 13 Rue Madeleine, This Gun For Hire, Wake Island, and two of his personal favorites, The House on 92nd Street and Bill And Coo, a delightful movie starring trained birds. Buttolph also worked in television, where he wrote the main title for Maverick. After retiring, he and his wife Polly traveled extensively throughout Europe and the Orient before returning to the San Diego area. David Buttolph died in 1985.