Heinz Roemheld
Heinz Eric Roemheld (pronounced RAME HELD) was born on May 1, 1901 in Milwaukee,Wisconsin. His mother began teaching him piano at age four, he soloed on piano at the Majestic Vaudeville Theater House when he was twelve, and he directed ensembles at three Milwaukee hotels at fifteen. Roemheld graduated from the Wisconsin College of Music at nineteen, then went to Berlin to study music in 1921, and the following year he debuted as guest pianist with the Berlin Philharmonic Orchestra. In 1925, while performing on piano and conducting the orchestra at Milwaukee's Alhambra Theater for the silent version of The Phantom of the Opera, he was noticed by Carl Laemmle, the head of Universal Pictures, who was sitting in the audience. Laemmle hired Roemheld to manage Universal's theaters in Washington, D. C. and later in Berlin.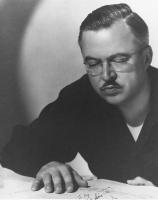 When the rise of Nazism drove Roemheld back to the States in 1929, he joined Universal as a composer and music director, his first major assignment being writing the score for All Quiet on the Western Front. After spending three years with Universal, he later worked for Paramount, Warner Brothers , and then became a free-lancer in the mid-1940s. One film he didn't receive credit for was Gone with the Wind, for which Roemheld ghost-wrote for the burning of Atlanta and the rape scenes.
In 1945 he was appointed Chief of Film, Theater, and Music Sections of the Information Control Division of the U. S. Forces in Europe. Roemheld was nominated for an Academy Award for Best Music, Scoring of a Musical Picture for 1941's The Strawberry Blonde, won (with Ray Heindorf) the 1942 Academy Award for Best Music, Scoring of a Musical Picture for Yankee Doodle Dandy, and in 1952 he wrote the standard "Ruby" for Ruby Gentry. Roemheld retired in 1964 to focus on his classical compositions, frequently conducting them with the Milwaukee Symphony Orchestra. His concert works include piano preludes, sonatinas, string quartets, and quintets.
Roemheld composed, arranged, or conducted music for more than 400 films, some of which are The Creature Walks Among Us, The Desert Song, Down to Earth, The Fuller Brush Man, Gentleman Jim, The Good Humor Man, It Had to Be You, Jack and the Beanstalk, Janie, Kill the Umpire, Knute Rockne All-American, The Lady From Shanghai, Kiss of Fire, Lad: A Dog, The Land Unknown, Make Your Own Bed, The Mole People, O.S.S., The Perils of Pauline, The Purple Mask, Sh! The Octopus, Shine on Harvest Moon, The White Hell of Pitz Palu, and You Can't Get Away With Murder. He passed away in Huntington Beach, California on February 11, 1985.